Hey there, food enthusiasts! Today, we're diving into a culinary adventure that might just change the way you think about organ meats. Chicken livers are not only delicious but also packed with essential vitamins and nutrients. If you've never tried them before, this easy chicken liver recipe is the perfect introduction to their rich and acquired taste.
Jump to:
A TRADITIONAL ROMANIAN DISH
In the realm of Romanian cuisine, "Ficăței cu Piure," or Chicken Liver Over Mashed Potatoes, stands as a shining main dish star. This dish, beloved for its comforting embrace and robust flavors, is a testament to Romania's culinary heritage. Join me as I uncover the roots of this delightful meal and the significance of simplicity and nourishment in Romanian cooking.
In the rustic landscapes of rural Romania, chicken liver emerged as a readily available and budget-friendly source of protein. It quickly found its way into the hearts and kitchens of Romanian families, becoming a cherished staple in traditional recipes. Here, potatoes have been cultivated for generations, offering sustenance and comfort to countless generations.
This dish beautifully encapsulates the essence of Romanian cuisine, where the simplicity of ingredients is celebrated, and the focus remains on nourishing the body and soul with wholesome, delicious fare. It's a testament to the ingenuity of Romanian cooks who crafted a dish that combines affordability with exceptional taste.
As you savor each bite of this great dish, remember that you're not just enjoying a delicious meal; you're experiencing a piece of Romania's rich culinary history.
WHY YOU WILL LOVE THIS CHICKEN LIVER RECIPE
Before we get into the nitty-gritty of this delicious recipe, let's talk about why chicken livers are a great choice for your diet. this recipe is flavorful, quick to cook with simple ingredients and healthy.
Here are the health benefits of chicken liver. These small, flavorful organs are a powerhouse of nutrition. They're a great source of vitamin B, vitamin K, and even contain a healthy dose of vitamin C. Additionally, they're a fantastic source of animal protein and provide essential minerals like iron.
A 100g serving of chicken liver provides more than half of the dietary daily value intake for iron.
Also it contains 172 calories, more than 100 of which come from protein. It is a complete protein because it contains all of the essential amino acids, which are those that your body cannot produce.
One serving provides more than 50 percent of the requirement for all other essential amino acids.
One serving contains 6.4g of fat, 2g of which are saturated fat as the healthiest forms of animal protein.
INGREDIENTS
To make this great chicken liver dish, you'll need:
For chicken liver with caramelized onions:
fresh chicken liver
yellow sliced onion
garlic
olive oil
salt
ground pepper
butter
2. For Mashed potatoes (prepare them ahead of time):
potatoes
milk
butter
salt
water
HOW TO COOK CHICKEN LIVER
STEP 1: PREPARE THE CHICKEN LIVERS
Inspect and Clean: Begin by carefully inspecting the chicken livers. Look for any discolored or damaged parts and remove them. You can also trim any visible connective tissues or fat if desired.
Rinse: Place the chicken livers in a bowl and rinse them under cold running water. Gently swish them around to remove any residual blood or impurities. Drain the livers in a colander.
Pat Dry: Use paper towels to pat the chicken livers dry. It's important to remove excess moisture to prevent splattering when you cook them.
Cut and Prep: Depending on your recipe, you may need to cut the chicken livers into smaller pieces or leave them whole. Use a sharp knife and a clean cutting board for this step.
STEP 2: CARAMELIZE THE ONIONS
Prepare the Onions:

Start by selecting the onions you want to sauté. White, yellow, or red onions are commonly used, but you can choose based on your flavor preference.
Peel the onions and cut them in half from top to bottom. Then, thinly slice the onions horizontally.

Heat the Pan:

Place a skillet or frying pan on the stove over medium heat. Allow it to heat up for a minute or two.

Add Oil or Butter:

Add a small amount of cooking oil or butter to the hot pan. About one to two tablespoons is a good starting point for one to two onions.

Sauté the Onions:

Once the oil or butter has melted and is shimmering (but not smoking), add the sliced or diced onions to the pan. Spread them out evenly to ensure even cooking.
Stir the onions occasionally to prevent them from sticking to the pan. You can use a wooden spoon or spatula for this.

Season (Optional):

If desired, season the onions with a pinch of salt and a sprinkle of black pepper. These seasonings can enhance the flavor of the onions.

Cook Until Caramelized:

Continue to cook the onions over medium heat, stirring occasionally, until they become soft and golden brown. This process can take about 10-15 minutes, depending on how many onions you're sautéing and your desired level of caramelization.

Adjust Seasoning (Optional):

Taste the sautéed onions and adjust the seasoning if needed by adding a bit more salt or pepper to taste.

Serve or Use in Your Recipe:

Once the onions have reached your desired level of caramelization and flavor, they are ready to be mixed with cooked chicken liver.
STEP 3: SAUTÉ THE CHICKEN LIVERS
Heat the Pan:

Place a skillet or frying pan on the stove over medium-high heat. Add a tablespoon of cooking oil and let it heat up until it shimmers but doesn't smoke.

Sauté the Chicken Livers:

Carefully add the chicken livers to the hot pan. Arrange them in a single layer, making sure they don't overcrowd the pan. If needed, sauté them in batches.
Allow the chicken livers to cook undisturbed for about 2-3 minutes on one side until they develop a golden brown crust.

Flip and Continue Cooking:

Flip the chicken livers over using tongs or a spatula. Continue cooking for another 2-3 minutes on the other side or until they're cooked through.
Chicken livers are safe to eat when their internal temperature reaches 165°F (74°C). You can use a food thermometer to check their doneness.

Mix caramelized onions with chicken liver and serve over mashed potatoes.
STEP 4: MAKE MASHED POTATOES
Select and Prepare the Potatoes:

Choose potatoes that are well-suited for mashing, like Russet or Yukon Gold potatoes. Wash and peel them if desired, or you can leave the skins on for added texture and nutrition.
Cut the potatoes into evenly sized chunks to ensure they cook evenly.

Boil the Potatoes:

Place the potato chunks in a large pot and cover them with cold water. Add a generous pinch of salt to the water.
Bring the water to a boil over high heat. Once boiling, reduce the heat to maintain a gentle simmer and cook the potatoes until they are fork-tender. This usually takes about 15-20 minutes.

Drain and Dry:

Drain the cooked potatoes in a colander, and then return them to the empty pot. Allow any excess moisture to evaporate for a minute or two over low heat.

Mash the Potatoes:

Using a potato masher or a ricer, begin mashing the cooked potatoes. Mash them thoroughly until you achieve the desired level of smoothness or lumpiness.
For creamier mashed potatoes, use a hand mixer or a food processor. Add in some softened butter to enhance the flavor and richness.

Add Butter and Milk:

While the potatoes are still hot, add a few tablespoons of butter and a splash of milk to the pot.
Start by adding a small amount of each, and then gradually increase until you reach the desired creaminess and flavor. Season with salt to taste.

Optional Flavor Additions:

For extra flavor, consider adding minced garlic (sautéed or roasted), fresh herbs, or grated cheese to the mashed potatoes. These additions can elevate the taste.

Mix Well:

Mix the ingredients together until the butter is melted, and the mashed potatoes are smooth and creamy.
STEP 5: SERVE
Enjoy your homemade mashed potatoes hot as a comforting side dish topped with chicken liver and fresh parsley. They're a classic comfort food that's hard to resist!
EXPERT TIPS
Here are some expert tips to help you make this dish a culinary masterpiece:
1. Choose Fresh and Quality Ingredients - Start with fresh chicken livers that are free from any off-odors or discoloration. High-quality livers will yield a better taste and texture.
2. Properly Clean and Trim the Livers - Carefully inspect the livers, removing any connective tissues, visible fat, or discolored areas. A clean and well-trimmed liver ensures a smoother texture.
3. Gentle Cooking - Sauté the chicken livers over medium-high heat to achieve a golden brown exterior while keeping the interior tender. Overcooking can result in dry, tough livers.
5. Use a Wide Skillet or Pan - Choose a wide skillet or pan to ensure that the livers have enough space to cook evenly without overcrowding. Crowding the pan can lead to steaming rather than browning.
6. Caramelize Onions Separately - While you can start sautéing onions alongside the livers, it's often better to caramelize the onions separately. This allows you to control the caramelization process and ensure perfectly browned, sweet onions.
7. Low and Slow for Onions - When caramelizing onions, use low to medium-low heat and be patient. It can take anywhere from 30 to 45 minutes to achieve that rich, sweet flavor. Stir occasionally to prevent burning.
9. Season Layers - Season the dish in layers. Season the livers, then season the onions, and adjust the final seasoning once everything is combined to ensure a balanced flavor profile.
11. Taste and Adjust - Always taste the dish before serving and adjust the seasoning with salt and pepper as needed.
12. Serve Immediately - Chicken liver with caramelized onions is best served hot and fresh. The livers can become dry if left to sit for too long.
VARIATIONS AND SUBSTITUTES
Transform the classic dish into the best creamy chicken liver pate by blending cooked chicken livers and caramelized onions with butter and cream. Additionally serve it as a spread for crackers or toast points.
If you're looking for substitutes for sautéed chicken liver in a recipe, consider options that provide similar flavors, textures, or nutritional profiles. Here are some alternatives:
Beef Liver: Beef liver is a common substitute for chicken liver in many recipes. It has a similar texture and flavor, although it can be slightly stronger in taste.
Pork Liver: Pork liver can be used as a substitute and is often milder in flavor than chicken liver.
Turkey Liver: Turkey liver has a flavor and texture that is somewhat similar to chicken liver, making it a suitable substitute in some dishes.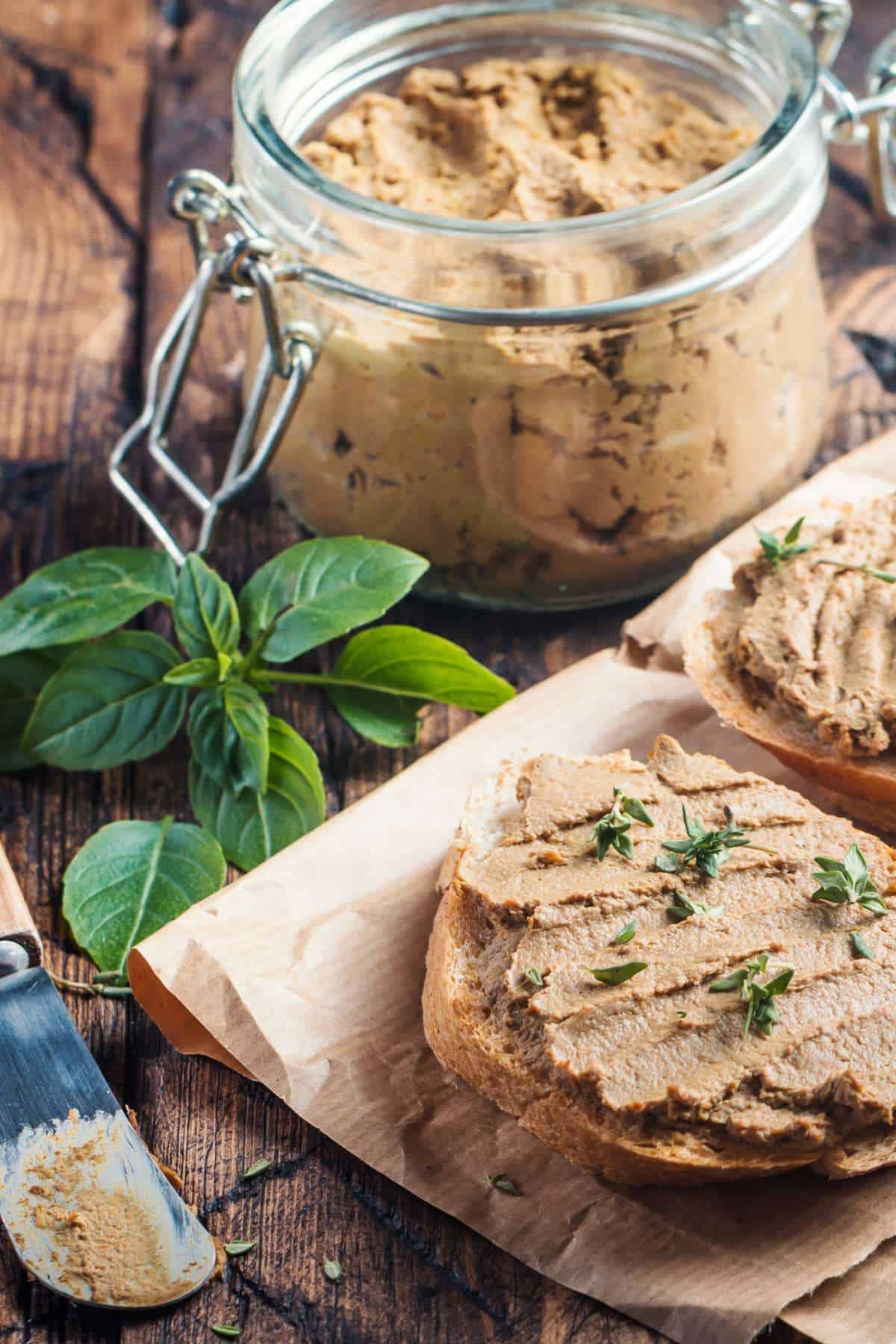 WHAT TO SERVE WITH CHICKEN LIVERS
Chicken livers are a versatile ingredient that pairs well with various side dishes and accompaniments. Here are some delicious options to serve with chicken livers:
Mashed Potatoes: Creamy mashed potatoes make for a classic and comforting side dish that complements the rich and savory flavors of chicken livers.
Rice: Serve chicken livers over a bed of fluffy white rice, seasoned rice pilaf, or aromatic basmati rice. The rice can soak up the delicious sauces and juices.
Crusty Bread or Baguette: Slices of crusty bread or a warm baguette are perfect for sopping up the flavorful sauces and juices from the chicken livers.
Fresh Green Salad: A simple green salad with a light vinaigrette dressing can provide a refreshing contrast to the richness of chicken livers.
Steamed or Roasted Vegetables: Steamed broccoli, roasted Brussels sprouts, or sautéed spinach are excellent options to balance the meal with some healthy greens.
Polenta: Creamy polenta serves as a wonderful base for chicken livers, adding a comforting and slightly nutty flavor.
Couscous: Fluffy couscous is a quick and easy side dish that complements the savory chicken livers. Consider seasoning it with herbs or spices for extra flavor.
Coleslaw: The crisp and tangy flavors of coleslaw can provide a refreshing contrast to the richness of chicken livers, especially when served in a sandwich.
Pasta: Serve chicken livers over pasta, such as fettuccine or linguine, with a simple garlic and olive oil sauce or a creamy Alfredo sauce.
Sautéed Mushrooms: Sautéed mushrooms, either as a side or incorporated into the dish, add an earthy flavor that pairs well with chicken livers.
HOW TO STORE LEFTOVER CHICKEN LIVERS
Here's how to store them:
Fridge
1. Allow the Chicken Livers to Cool: Before storing, allow the cooked chicken livers to cool to room temperature. Do not leave them at room temperature for more than 2 hours to avoid food safety issues.
2. Use an Airtight Container: Transfer the chicken livers to an airtight container. Glass or plastic containers with tight-fitting lids work well. Ensure that the container is clean and free of any lingering odors.
4. Seal and Store: Seal the container tightly to prevent air from getting in and causing oxidation. This will help maintain the quality of the chicken livers.
6. Refrigerate Promptly: Place the airtight container with the chicken livers in the refrigerator as soon as they have cooled down. Store them in the coldest part of your fridge, which is usually the back or the bottom shelf.
7. Consume Within 3-4 Days: Leftover cooked chicken livers can be safely stored in the refrigerator for up to 3-4 days. Beyond this time, their quality and safety may start to decline.
Freezer
If you need to store cooked chicken livers for longer periods, consider freezing them. Place them in an airtight container or a freezer-safe bag and label with the date. Frozen chicken livers can typically be stored for up to 3-4 months.
REHEATING CHICKEN LIVERS
When reheating leftover chicken livers, ensure they are heated thoroughly to an internal temperature of 165°F (74°C) to kill any potential bacteria.
FREQUENTLY ASKED QUESTIONS
Why do you soak chicken livers in milk?
If you would like to take this step soaking chicken livers in milk is a common practice for several reasons: tender chicken livers, mild flavor, removal of blood, enhance creaminess. To soak chicken livers in milk, simply place them in a bowl, cover them with milk, and refrigerate for 30 minutes to a few hours before cooking. After soaking, rinse the livers in cold water and pat them dry before using them in your recipe.
Do you rinse chicken livers before cooking?
Yes, it's generally a good practice to rinse chicken livers before cooking them. Rinsing chicken livers serves several purposes: removal of residual blood, sanitization and preparation for seasoning.
Is chicken liver good for you?
Chicken liver can be a nutritious addition to your diet when consumed in moderation. It is a good source of several essential nutrients, including: proteins, vitamins (A, B12, B2, B3 and B6), minerals (iron, zinc, selenium, phosphorus) and healthy fats.
More favorite recipes to try:
Looking for more delicious sweet inspiration? Check out:
Oven roasted potatoes with Italian herbs
Creamy chicken and mushrooms pappardelle
Eggplant Parmesan with Mortadella
What is your favorite chicken liver recipe?
In conclusion if you make this chicken liver recipe, snap a photo and hashtag it #alexascuisine. Leave a comment, rate it or PIN it.
I love to see your creations on Instagram and Facebook!
Thank you for visiting my blog, commenting, trying my recipes and sharing them on Facebook, Twitter and Pinterest. I appreciate the love.
You're amazing!!
Alexa
Print
Recipe
Chicken liver with caramelized onions over mashed potatoes
---
Author:

Total Time:

50 minutes

Yield:

4

people

1

x
Description
Simple, fast, must try! Indulge in a savory delight: Chicken liver with caramelized onions served over creamy mashed potatoes. 
---
---
Instructions
Chicken liver with onions:
First wash chicken liver very well with cold water.
Cut onions in slices and finely chop garlic.
In a pan over medium heat melt butter add the oil and sliced onions. When the onions begins to soften, add chopped garlic and keep it on the heat for 1 minute.
Drain liver and place it a separate pan with oil. Roast liver on both sides, turning each one. Do not stir in the pot; just shake the pot with the front and back moves to avoid onions to burn.
In a glass mix all spices (not the salt) with 1 cup water. Pour over the liver and let boil over low heat approx. 10 minutes. Try to mix as little as possible to not break the liver.
Most importantly season with salt at the end.
Mashed potatoes:
Place peeled, cubed and washed potatoes into a saucepan. Cover with cold water. Add salt and boil until tender for about 25 minutes.
Drain cooked potatoes. Using a potato masher or electric mixer slowly mix potatoes until smooth.
Add milk and butter. Mix until it creamy.
Serve with mashed potatoes and sprinkled with chopped parsley.
Notes
Use fresh livers for better taste.
Clean and trim livers properly.
Consider marinating livers for flavor.
Caramelize onions and livers separately for sweetness.
Prep Time:

20 minutes

Cook Time:

30 minutes

Category:

Dinner, Lunch
Keywords: chicken liver, great recipe, caramelized onions